A great opportunity for companies to directly engage with potential clients on pressing & latest issues in the built environment industry. For companies, this is your time to shine! Build a good impression and brand visibility as you share inputs & address questions from users interactively. Use the chance to explain how your services/products can solve the issues in the industry.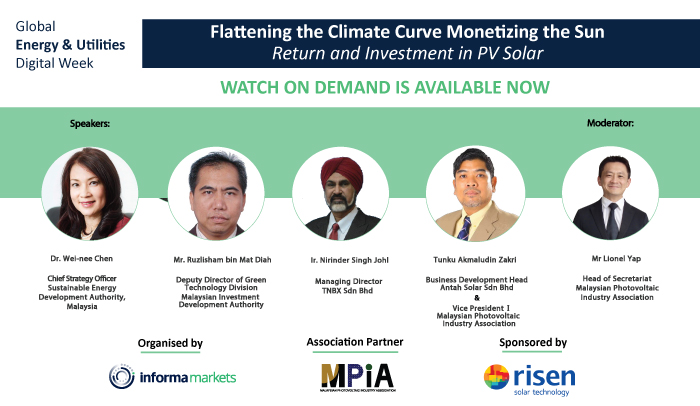 Flattening the Climate Curve Monetizing the Sun: Return and Investment in PV Solar
Informa Markets is using its global reach to bring thought leaders and decision makers from across the globe together for an interactive digital week to discuss the challenges and opportunities facing the energy and utilities sector.
This webinar offers all you need to know before you embark on your investments into solar energy. Right from identifying the best solar energy investment to knowing the most appropriate financing option for your solar venture, the webinar offers great insights about these steps and will prepare you with the necessary tools to undertake a profitable solar project. Also, the webinar will help prospective investors in identifying the source of support from government agencies, overcoming investor concerns and much more.
Moderator:
Mr Lionel Yap, Head of Secretariat (MPIA)
Speakers:
Dr Wei-Nee Chen, Chief Strategic Officer (SEDA)
Mr. Ruzlisham Mat Diah, Deputy Director, Green Technology Division (MIDA)
Ir. Nirinder Singh Johl, Managing Director (TNBX)
Tunku Akmaludin Zakri, Business Development Head of Antah Solar Sdn Bhd & Vice President I of MPIA